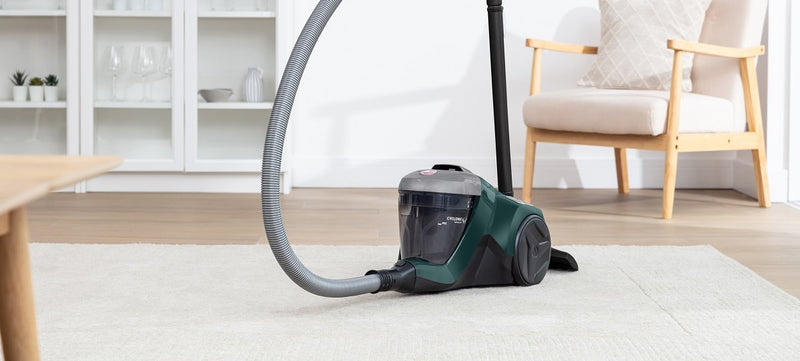 We're delighted to announce our brand new cylinder vacuum cleaners - the H-POWER 300 Home & Pets for high performance cleaning across all floors.
The H-POWER 300 is a natural successor to the popular Optimum Power - we've worked tirelessly to improve upon it to be our best cylinder vacuum cleaner ever.
What's so good about the H-POWER 300?
High performance cleaning from a new efficient 850W motor

HEPA filter for allergy care and an easy empty bin 
Silver ion treatment to prevent the build up of bacteria and a pets brush for allergy care on the Pets model

Improved reach with a 12m working radius

New and improved carpet and all floors nozzle for greater suction control and agility
Features of the H-POWER 300 Home & Pets
High performance corded cleaning
The H-POWER 300 uses high efficiency cyclonic technology which is powerful and efficient - this technology pushes the dirt to the sides of the chamber so you won't need a bag.
The new H-POWER 300 is powered by a 850W motor which is 150W more than the previous model, the Optimum Power, giving you fantastic suction for a whole house clean.
High performance comes from a combination of the low wattage high efficiency motor, efficiency of the separation system and an improved airflow path inside the H-POWER 300. 
Long reach
The H-POWER 300 has a working radius of over 12m with a 6.5m cord, 2.5m stretch hose, 1.5m hose and a telescopic tube which extends up to 0.9m. This long reach makes it easier to clean throughout the home including a full 12 step staircase.
Allergy Care
A HEPA filter helps trap small particles which could otherwise be released back into the air during a vacuum cleaning session. These particles can include fine dust, pollen and pet dander - the H-POWER 300 removes these and actively purifies the air as it cleans.
Alongside the HEPA filter, the Pets model has a silver ion treatment inside the chamber which prevents bacteria from growing in the bin keeping it clean and ideal for allergy sufferers. The pets model also includes a mini turbo brush which helps to remove stubborn pet hairs from cushions, sofas and carpets. The rotating bristles penetrate deeply into the fabric to loosen the fur and vacuum it into the dust collection chamber making it a perfect choice for pet owners..
2L Easy empty bin
With a new and improved 2L bin the H-POWER 300 can work for longer before needing to be emptied. The easy empty feature makes it simple to empty without getting in contact with the dirt adding an additional layer of hygiene for the user.
Brand new nozzle
The brand new carpet & floor nozzle has been developed with suction control and agility in mind.. The new nozzle guarantees optimum debris pickup on all surfaces. The frontal slider regulates suction to improve glidability on carpets. 
In addition, we have added 4 rubberised wheels for maximum comfort during its use.
Tools on board
Alongside the brand new carpet and all floors nozzle and the turbo brush (pets model)  is a convenient 2 in 1 dusting brush and crevice tool to clean above floor, in the car and in those hard to reach places.
What are the benefits of a cylinder vacuum cleaner?
Cylinder vacuum cleaners are agile and able to move around with ease thanks to the hose being separate from the central unit meaning you do not actively push the weight of the vacuum cleaner in your hand. Secondly, a cylinder vacuum cleaner's main units are nimble and maneuverable which adjusts to your movement and positioning giving you a large working radius. 
Cylinders come in bagless or bagged form giving you the choice of cyclonic efficiency or larger capacity.
Lately, cylinder Hoovers all come with tools on board which easily allows the user to clean on the floor and above it with accessories such as a crevice tool and dusting brush.