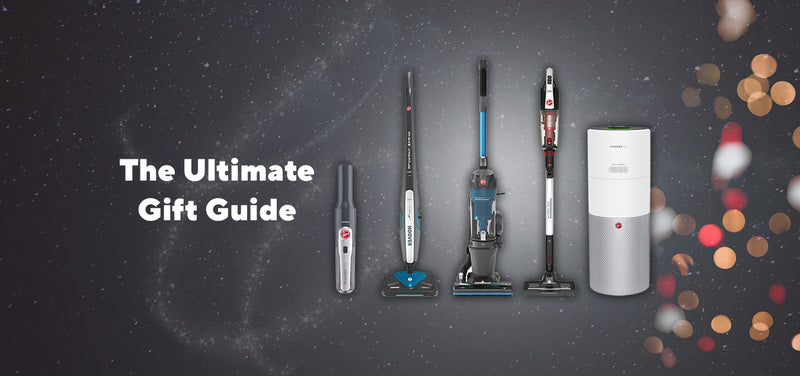 After Black Friday comes the Christmas period, which traditionally means exchanging of gifts between friends and family.
With friends and family coming to visit throughout the festive season there's no better time to buy a new Hoover. Every home needs a vacuum cleaner and a new one makes housework easier and more enjoyable.
It doesn't need to be a gift for someone else, if you're the big fan of cleaning why not drop hints for a new one or just get one for yourself as a treat!
Perhaps the existing model has had its day or you've recently moved home and need an upgrade.
If you're struggling to think of gifts or not sure which to choose about the many models we have then we've got some recommendations from the Hoover range for the cleaning lover in your life from vacuum cleaners, to air purifiers, and handhelds to steam mops.
Christmas gifts for cleaning lovers
Cordless vacuum cleaner
We have a range of fantastic cordless vacuum cleaners which would make perfect Christmas gifts for anyone with carpets or hard floors. Cordless vacuum cleaners have unrestricted movement and range and can handle multiple surface thanks to an integrated brush bar and plenty of tools on board.
The standout model is the all new HF9, which has Hoover's greatest EVER cordless suction power meaning you can enjoy twice as much suction power than Shark's No.1 Cordless Vacuum*. Available with a motorised pet brush or with a twin battery. The HF9 includes an incredible FREE 5 year warranty which is automatically registered when purchase directly with Hooverdirect.co.uk
Upright vacuum cleaner
Upright vacuum cleaners offer a reliable, powerful and robust clean and a great Christmas gift for someone with a larger home where a corded vacuum may be best.
Our standout Upright is the brand new HL5 which features both, ANTITWIST & PUSH&LIFT. This is a great all-rounder withe exceptional high performance on all floor types with no loss of suction to deep clean carpets plus all above floor cleaning.
Handheld
A handheld vacuum cleaner makes a brilliant gift for anyone this Christmas as it's light and portable enough to be used in the home and to clean the inside of a car. The great benefit of a handheld is its ability to be stored away easily and ready for small cleaning jobs at all times.
Know someone who's always got a messy car? Then why not take a look at the H-Handy 700 series. Do they have pets? Upgrade to the H-Handy 700 Pets which comes with a mini turbo brush to pick up stubborn pet hair.
Steam cleaners
If you, your friends or family have homes with a lot of hard floors and find them impossible to deep clean quickly, then look no further than a Hoover steam cleaner. The Steam Capsule will leave your hard floors shiny and hygienically clean as it glides around the kitchen and beyond. The Steam Capsule 2 in 1 has the additional benefit of turning into a handheld to tackle above floor cleaning tasks all over the house.
Steam cleaners can be used all over the home but are more widely used in a kitchen where hard floors are most likely. The Hoover steam range not only cleans but also kills 99.9% of germs and bacteria making it a practical present for the germophobe in your life.
Bundles
Perhaps the most attractive proposition is our range of bundle deals. Our bundles come with a free product which means you could keep one of them and give the other as a gift saving you money and ticking someone off the Christmas list at the same time.
Christmas gifts for allergy sufferers
If you have a friend or a family member who always seems to have a snuffly nose, runny eyes and itchy skin then why not get them an air purifier this Christmas to help them create a safe haven from allergens such as pollen, dust and pollution.
Christmas trees themselves can also create an allergy problem.